Our impact areas revolve around "Self-Care" and "Education," where we are committed to designing and implementing programs that create a lasting positive effect on the youths we serve.
At Heal LA, our programs are designed for lasting impact. We offer series-based courses with the same dedicated students week after week. Through pre- and post-program surveys and insightful focus groups involving students, parents, and teachers, we ensure that our offerings remain impactful and responsive to our community's needs.
Welcome to the Power Up Fitness Program! Our program is designed to help students improve their physical health, promote mental well-being, build social connections, establish long-term exercise habits, and enhance access to fitness opportunities. Taking place over multiple weeks, this program is held at a local City of Los Angeles Park & Recreation site.
Led by expert instructors from UCLA Health Sports Performance Powered by EXOS, our program offers a dynamic and team-based approach to youth fitness. During 90-minute sessions, participants engage in various exercise activities, such as relay races, dodgeball, capture the flag, and tug of war. These activities not only promote teamwork, camaraderie, and fun but also ensure an enjoyable and engaging experience for all.
With a strong emphasis on developing a solid foundation of fitness, our program incorporates a diverse range of exercises that challenge participants both physically and mentally. Our EXOS instructors provide expert guidance, motivation, and support, creating a positive and inclusive environment that empowers youth to enhance their physical fitness, performance, and overall well-being.
The Power Up Fitness Program offers a safe and accessible location for youth to participate in team-based exercise activities, with a primary focus on establishing a strong fitness foundation. We invite you to join us in supporting our youth's physical fitness journey and making a positive impact on their overall well-being.
Goals for Power Up Fitness:
Foster Social Connections

Promote Long-Term Exercise Habits

Increase Access to Fitness Opportunities
Welcome to the SMILE Program —an innovative and holistic approach dedicated to nurturing mental health and well-being among our students. The SMILE Program, which stands for "Supporting Minds with Inspiration, Love, and Encouragement," seamlessly integrates the therapeutic benefits of yoga and mindfulness, led by 'Strong, Calm + Playful,' with the comforting companionship of therapy dogs from 'Sundog Therapy.' Together, these elements craft a distinctive and engaging experience that empowers and uplifts our students.
Through the SMILE Program, children acquire practical tools to navigate everyday challenges, fostering emotional resilience and self-awareness. We place a substantial emphasis on self-care practices, the nurturing of healthy relationships, and the cultivation of a supportive environment. Our comprehensive curriculum equips children with invaluable self-care strategies, empowering them to prioritize their mental well-being.
The dedicated team behind 'Strong, Calm + Playful' firmly believes that a strong body, calm mind, and playful spirit collectively contribute to a peaceful, present, and joyous state of being. Utilizing a blend of yoga, mindfulness exercises, and thoughtfully selected activities, their mission is to guide children toward a harmonious connection between body, breath, mind, and spirit. This transformative approach empowers students to forge profound and meaningful connections both within themselves and with others.
To enrich this immersive experience, we introduce therapy dogs from 'Sundog Therapy' into the curriculum. This inclusion allows students to foster positive relationships with animals and peers, develop vital social skills, nurture empathy, refine perspective-taking abilities, enhance motor coordination, expand cognitive capacities, and even acquire valuable vocational skills. An experienced occupational therapist leads the class, ensuring that each child receives expert support and guidance throughout this transformative journey.
Join us as we embark on this life-enriching adventure with the SMILE Program. Together, we  nurture resilient minds, promote mindfulness, encourage self-care, foster healthy relationships, and empower lifelong skills. Let's create an inclusive space where each child feels valued and inspired to authentically express themselves.
Foster Emotional Resilience

Support Self-Care Practices

Encourage Healthy Relationships

Create a Supportive Environment
Welcome to Heal LA's community-driven Virtual Cooking Class Program, designed to promote family participation, foster healthy eating behaviors, increase access to nutritious meals, and improve cooking skills and culinary knowledge. Students will discover a unique and enriching culinary experience that enables participants of all ages with valuable life skills through the joy of cooking.
Our Virtual Cooking Classes, led by experienced chefs from Common Threads, provide a fun and educational opportunity for individuals and families to learn how to prepare nutritious and delicious meals using simple and accessible ingredients. With the expertise of these professional chefs, participants will receive guidance and expertise that will enhance their culinary journey.
We are proud to offer both English and Spanish sessions in our program, ensuring that language is not a barrier to learning and enjoyment. Whether participants prefer to participate in English or Spanish, our classes cater to their language preference, allowing for a comfortable and inclusive experience for all.
In collaboration with With Love Market & Cafe, we work to ensure that each student receives their weekly meal of the week box directly to their home. Love Market & Cafe put together each meal box, including the necessary ingredients for the program. This partnership allows us to provide convenient access to the ingredients needed for each week, making it easier for participants to actively engage in the cooking process.
The Virtual Cooking Class Program provides access to exclusive recipes, cooking resources, and ongoing support to continue the student's culinary journey beyond the virtual session. We invite you to join us in cultivating our youth's culinary skills and fostering a love for the art of cooking.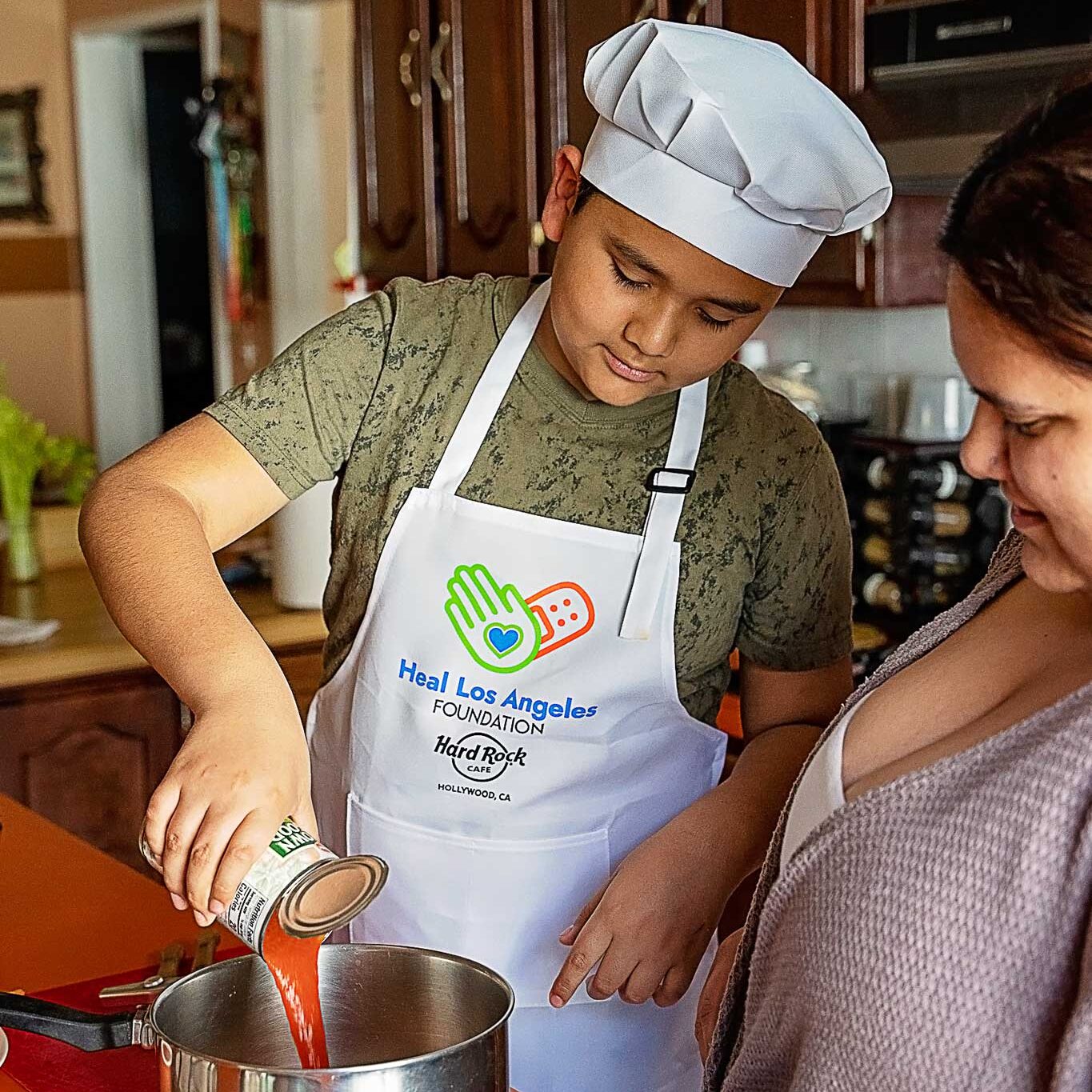 Goals for Virtual Cooking Class:
Improve Family Participation

Promote Health Eating Behaviors

Increase Access to Nutritious Meals

Improve Cooking Skills and Culinary Knowledge